Notice: I receive compensation if you buy something through affiliate links on this post. This does not change the price you would pay.
How do you choose a good KitchenAid mixer bowl that is reliable, durable, easy to clean, and convenient to use? Truth is, it isn't all that difficult. There is a wide array of mixing bowls which have all been designed and manufactured to the specifications of its line of stand mixers.
KitchenAid's bowls for its stand mixers are designed to take the guesswork out of mixing, kneading, whipping, and stirring with an even wider selection that can do so much more when used with different models.
There are various sizes and types of mixer bowls you can choose from.
The stainless steel footed five quart bowl (in photo) for instance, is ideal for use with the 5-qt. tilt-head models.
And, if you need a smaller bowl to mix icing in or for whipping cream and egg white, there's no need to wash the larger bowls you are using for the cake mix or batter. That's because KitchenAid has the 3-quart bowl which conveniently locks into the stand mixer's base and is compatible with their Artisan, Classic Plus and Classic models.
Elegant KitchenAid Glass Bowls
A glass mixer bowl adds class and elegance to a stand mixer. It has the functionality of stainless steel, plus, content is visible from the side and bottom. You can readily pinpoint where there are unmixed ingredients.
We can't talk about glass stand mixer bowls and not mention the KitchenAid 6 qt glass bowl, which comes with their Professional 600 and Professional 6500 Design Series stand mixers, the first mixers from this company that embodies an unparalleled combination of convenience (bowl lift) and elegance. The metal band that encircles it is the anchor for attaching the bowl to the mixer. But it's also designed to add appeal and contrast.
The glass 6-quart bowl is designed to be used with F-series coated flat beater, Powerknead spiral dough hook and whip. Hence, they are sold together as a kit. It is designed for bowl-lift stand mixers KV25, KP26, KSM652 and KSM758 (Pro Line Series).
The Artisan Design Series also includes a 5 qt. graduated glass bowl. Its comfort handle and spout makes it easy to carry and transfer contents.
Aside from those already mentioned, there are other KitchenAid mixer glass bowls you can select from if you need a replacement or want an extra bowl on hand.
Three variants are available for the 5 qt. KitchenAid tilt-head mixers. All of them have wide handles, pouring spouts and tight-fitting plastic lids. Microwave- and freezer safe, they can be used to melt chocolate or chill content.
KitchenAid 5-quart glass bowl, K5GB with measurement markings. This fits all tilt-head models except the Accolade.
The K5GBF 5-quart KitchenAid frosted glass bowl with graduations can give your kitchen a subtle touch of understated elegance. It does not fit Accolade model.
KitchenAid K5GBH 5 quart bowl in unique hammered glass finish without graduations. It fits models KSM150PS, KSM152PS and KSM155GB
These high quality glass bowls do not retain or absorb odors. It also doesn't corrode or rust, is dishwasher and, if you are careful when using it, can last a very long time.
Stainless Steel Mixer Bowls
A stainless steel mixer bowl is not as "pretty" as its counterparts. But then again, it will also not crack, warp, break or melt because of its durable construction and longevity. This bowl can hold up to the wear and tear of culinary tasks for an indefinite period of time.
The 4.5 quart tilt-head stand mixers include stainless steel bowls with footed bases and no handles.
The five-quart Artisan KitchenAid mixer comes with a polished stainless steel bowl with handle. This is one of the more versatile mixer bowls from the company.
All other 5-qt. stand mixers with the exception of the Artisan Design, have polished stainless steel bowls with handles.
Aside from the Design Series mixers, all 5-qt, 6-qt and 7-qt bowl-lift stand mixers include stainless steel bowls with handles.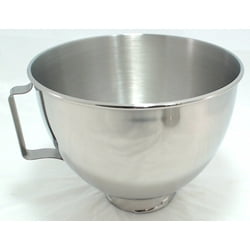 In addition, your stand mixer's performance can become even more versatile with an extra bowl for party preparation. A 4.5 quart stainless steel bowl with handle accommodates even the most intensive blending or whipping of ingredients which need to be gradually folded into a larger mixture. It fits all KitchenAid's tilt-head mixer models.
Designed with the signature footed base it locks firmly in place. Made from top-rate polished (exterior) and brushed (interior) stainless steel, along with a durable handle, it is ideal for wet and dry ingredients. It is dishwasher safe and can be cleaned easily after use.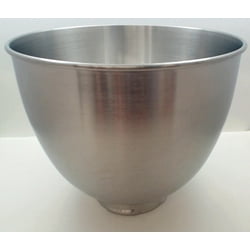 Another extra mixing bowl you should have is a 3.5 quart stainless steel bowl for smaller quantities. It's very convenient for multi-step recipes. Just switch bowls and you go.
[yellowbox]The footed 3.5-qt bowl is ideal for 5KSM tilt-head KitchenAid stand mixers. Made of polished and brushed stainless steel, it gives your mixer even more versatility.[/yellowbox]
A 3-qt. bowl in brushed stainless steel that is packaged with a combi-whip fits bowl-lift models KP26M1X and KV25G. The combination whip functions as a flat beater and a whip. The bowl and whip are ideal for whipping small quantities of egg whites or cream; and for mixing a batch of batter, cookie dough, fillings or toppings.
Ceramic Bowls
Add color to your kitchen by using a ceramic KitchenAid mixing bowl.
Non-reactive and resistant to glare, the 5-quart ceramic mixing bowl which is made for KitchenAid's 5-quart tilt-head mixers has the classic and chic appeal of a bespoke accessory yet is contemporary enough to be microwave-save and freezer-safe. Moreover, this mixer bowl has a pouring spout that prevents spillage and overflows when you transfer its content to another container.
Choose your favorite color, one that complements your kitchen design – from Majestic Yellow, Purple, Glacier Blue, White Chocolate or Onyx Black. Even its handle looks like it came straight from a high-end pottery barn. KitchenAid's stand mixer ceramic bowls are dishwasher safe and come with a 1 year warranty. You can create sauces, nut butters, dips, cake batters, and more with this one.
Hopefully, this compilation of KitchenAid mixing bowls we have provided here will help you find the bowl that suits your needs and preferences perfectly. Go over each option and compare them against each other so you can make the right choice.