Notice: I receive compensation if you buy something through affiliate links on this post. This does not change the price you would pay.
You cover your car for protection so why not do the same for your KitchenAid mixer? Just because it's an indoor appliance doesn't mean it should sit on your kitchen table without any cover when you aren't using it. Dust and lint are only two of the many elements your stand mixer can catch without protective covering. Not to mention flies and other insects.
Plain Stand Mixer Covers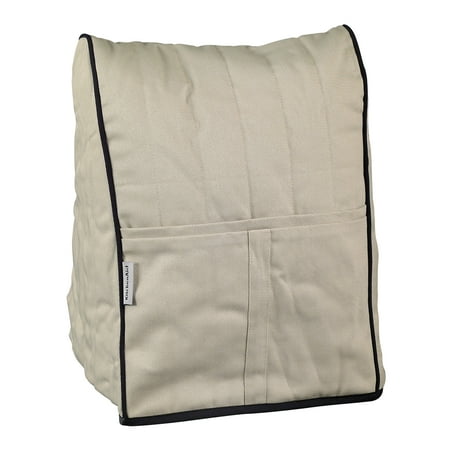 Keeping your Classic Plus protected with the KMCC1 cover, for instance, does more than shield it from dirt and grime – it provides your mixer with a large pocket in front for storing your cooking accessories and cookbooks so you don't have to waste time looking for these things.
The KMCC1 fits both bowl-lift and tilt-head mixer models. Made from 100% cotton material with polyester filling, it comes in red, black, white, and khaki colors and can easily be machine-washed using the gentle, cold cycle.

For your tilt-head mixer there is the KSMCT1 Fitted Covers. Made from 100% cotton, this cover has heavyweight construction and quilted to give it a unique visual appeal. It is tailored to fit and hug your tilt-head stand mixer. It's form makes it really eye-catching.
It has a convenient pocket in front for accessories such as recipe cards, measuring spoons, and others. You can choose from four shades: silver frost, red, khaki and black.
The clear cover for KitchenAid mixer easily fits your 4.5 quart model. It comes with trim in a variety of colors like black, almond, red, white, orange, cobalt, tan, cinnamon, yellow, cocoa, and green apple. For less than $25 each, you can change your stand mixer's cover as often as you like. This is great because it doesn't hide the mixer.
With the plethora of covers available, you won't run out of protection for your stand mixers. These covers have interesting shapes and designs that can blend into the interior décor of any kitchen and fit any KitchenAid model, for that matter.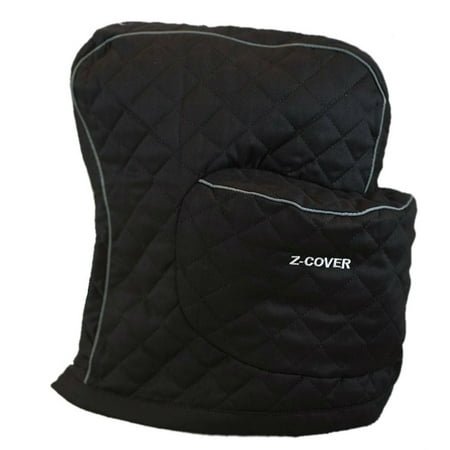 This black heavyweight KitchenAid stand mixer Z-cover with two large side pockets will provide protection for your 4.5 quart or five quart Artisan Series mixer. It has a contrasting white piping trim, great style and quality construction. It's big enough to accommodate the stand mixer's bowl. The pockets are big enough to hold recipes and attachments.
If you don't like prints and prefer a plain cover, these attractive quilted selections can be matched with your mixer's color or choose a contrasting shade to make it stand out. These options will fit all KitchenAid models except the 7 qt. Pro line series and the commercial models.
Printed KitchenAid Mixer Covers
These group of printed mixer covers  fit all KitchenAid models of the Classic line, Artisan series, and Professional 600 and 6500 series. Choose from a wide selection of attractive prints like cupcakes, coffee and tea, fruits, farm animals and a lot more.
They are made of cotton and lined with quilted cloth and have two side pockets to hold manual and flat beater.
The prints are colorful, fun and warm. They carry memories of home and a simple, laid back life.
Prints range from coffee, the barn, flowers, kitchen utensils, fruits and vegetables.
Need more options?
The unique combination of quilted red and white check and solid red top makes the Red & White Quilted Checked Cover a nice addition to any kitchen counter top. It fits the 6 quart Professional 600 mixer.
This cover has six pockets around it for recipe cards, measuring spoons, etc. and is also available in white, hunter green, cream, and pink.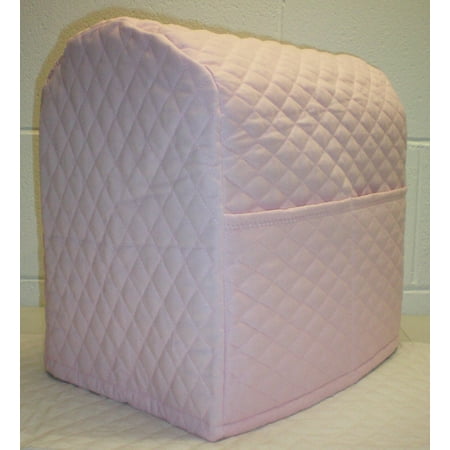 This handmade Quilted Cover in pink has two pockets on its side cover with adequate storage for the mixer bowl. It fits the 4.5 Classic, the five-quart Architect Series, the 4.5 Ultra Power Series, and the five-quart Artisan KSM Series. This 100% quilted cover, which comes in 10 other colors, can still fit even with the splash guard stored on the bowl. It has two side pockets for added storage of accessories.
Protecting your KitchenAid stand mixer from dust, grease and grime is a must. It is a substantial investment. So, be wise.
From the wide array of KitchenAid mixer cover, there is one or two or more that will fit your taste. Most people don't just get one cover for their kitchen appliances. I usually have three matching sets. At the very least have two because you will have to wash them.
Kitchen appliance covers are an inexpensive way to decorate your kitchen. You'll find that simply changing them will give your kitchen a new look and feel. It's fun to discover the wide possibilities you can achieve with just a simple change.