Notice: I receive compensation if you buy something through affiliate links on this post. This does not change the price you would pay.
Having put your KitchenAid stand mixer to work, you probably want to try some attachments that will help you make healthier homemade foods.
Now, your prized mixer is not just a mixer. It promises to make sausages, pasta, ice cream, and ravioli, juice and shred vegetables and fruits, and puree sauces, baby food, and jams, and turn you into a gourmet chef.
Most important, it gives you more control over what goes into your food. And, you have them fresh.
Perhaps, you already have a few attachments in your bucket list. Or, maybe you are starting a list and want to learn more about the choices before you. You can get confused, as I had been, without a list of all KitchenAid attachments in one place. There are attachment packs, and there are several of them for pasta alone and there are a few pasta sets. It's easier and faster if you have a complete list when picking your choices.
That's just what I did…
In a hurry?
See all KitchenAid stand mixer attachments now.
Gourmet Pasta Press Attachment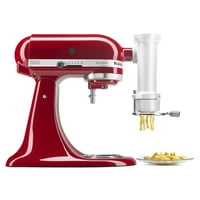 Make your own pasta in all possible varieties with this pasta press attachment equipped with six pasta plates that can easily be interchanged. It's pasta galore when you make spaghetti, rigatoni, small or large macaroni, fusili, and bucatini. It comes with a storage case to keep pasta plates and other accessories organized and neatly arranged when they are not in use.
Ravioli Maker
Complimenting the Pasta Roller and Cutter Set is the Ravioli Maker that allows you to manually guide two fresh pasta sheets through the hopper for filling those pockets with your choice of ravioli ingredients.
Pasta Roller & Cutter Set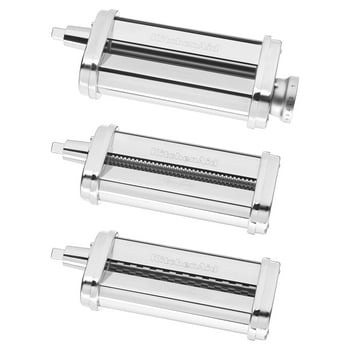 This attachment features a pasta roller that enables you to control just how thick – or thin – you want your pasta's texture to be for pappardelle noodles or ravioli squares. Use the linguine or fettucine cutter if you prefer uniform pasta. This three-piece attachment set is all-metal and includes the pasta roller, linguine and fettucine cutters, toothpicks, and wooden brush for cleaning.
Pasta Excellence Set
Six attachments in one: a pasta roller, ravioli maker, and cutter for fettucine, capellini, lasagnette, and spaghetti. The Pasta Excellent set has the best KitchenAid attachments because it has both the Ravioli Maker and Pasta Roller and Cutter Set combined.
Ice Cream Maker Attachments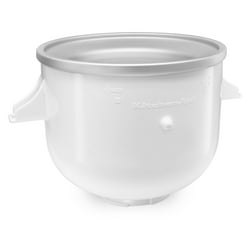 There are two variants of the ice cream maker attachment. One is for KitchenAid mixer models KSM7 and KSM6573C. The other fits all other models of KitchenAid stand mixers. Both types can make up to two quarts of the creamiest ice cream, freshest sorbet, and other mouthwatering frozen desserts that require soft consistency and velvety texture. Mix and scrape easily with the rotating dasher as you try various recipes provided in the Use and Care Guide.
Juicer and Sauce Attachment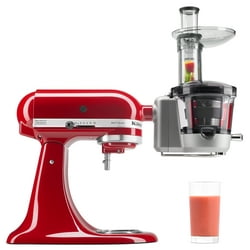 This attachment has three pulp screens for extracting juices from vegetables and fruits that have either high or low pulps. It has a slicing blade of stainless steel for chopping different sizes of hard, leafy or soft vegetables and fruits to make into jams, sauces, preserves, fruit butters, and salsa, among others. This Juicer and Sauce Attachment saves you time by doing all the preparation work.
Citrus Juicer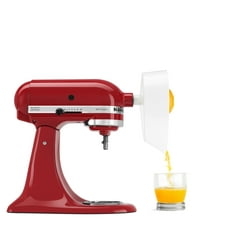 Fresh is refreshing. This attachment will get your juices going, literally. Use it for rapid extraction of juice from fruits and vegetables straight into a pitcher, measuring cup, bowl or container as its built-in strainer catches seeds to prevent these from mixing in with the juice. It is ideal for juicing citrus fruits in large quantities.
Food Grinder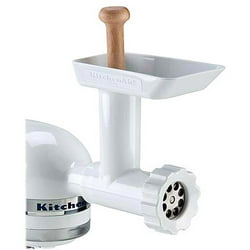 This tool set includes fine and coarse grinding plates. Use the coarse plate to grind raw meat for your burgers or meat loafs. Or, use it for making salsa. The fine grinding plate is ideal for grating hard cheeses and making bread crumbs.
Fruit and Vegetable Strainer For Food Grinder
This set includes the food grinder and a strainer for vegetables and fruits. It purees and strains fruits and vegetables, and removes fruit and vegetable peels with the strainer cone. It is ideal for preparing your homemade jams, and chutneys. Imagine never having to buy preserved applesauce or tomato sauce. You can afford to go fresh with this in hand. This versatile combo tool can also be used for grinding dried fruits and meat, grating cheeses and preparing bread crumbs.
Fresh Prep Slicer/Shredder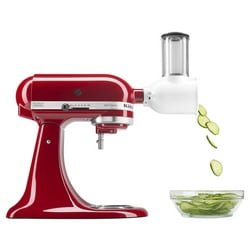 Shred cabbage and carrots for slaw or cheese for pizza or pasta with this attachment that includes both fine and coarse shredding cones. Need to slice vegetables for stir fry? Use either the thin or thick slicing cones. This tool includes a metal shaft and plastic housing.
Sausage Stuffer Kit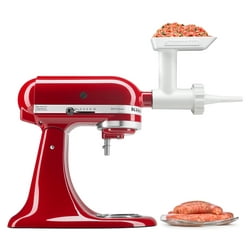 The sausage stuffer turns ground raw meat into delectable homemade sausages. It can be easily installed on the stand mixer's hub and was designed to specially fit KitchenAid® stand mixer models built after 1990. It comes in a kit that can be attached to the food grinder attachment, which is sold separately, and used to create any kind and any size of sausage you wish such as breakfast sausages, large Hot or Sweet Italian, Bratwurst, Kielbasa, Hungarian sausages, Cervelat, Boudin Blanc, Chorizo, Pepperoni, Mortadella, Bockwurst, and
Braunschweiger.
All Metal Grain Mill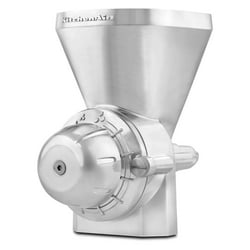 Grains that are freshly-milled give baked goods a heartier taste and a finer texture and with the Grain Mill attachment that is easy and convenient. It grinds oats, rice, wheat, corn, and other low-oil and low-moisture grains quickly to make homemade flour from the so-called "cracked" or coarse texture all the way to consistency that is extra-fine.
ExactSlice™ Food Processor Attachment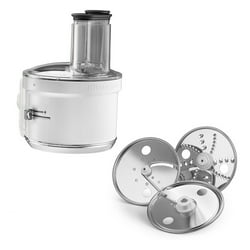 This KitchenAid attachment has an exclusive system with six settings that slices from thick to thin and shreds from fine to coarse with a slide of its external lever control. It is equipped with a wide mouth feed tube and three kinds of openings (medium, narrow, and large). The ExactSlice™ Food Processor can process different food sizes either vertically or horizontally as well as julienne vegetables and fruits into thin, long strips. It comes in a storage case specially designed to accommodate the slice, julienne, and shred discs and the dicing kit.
Mixer Attachment Packs
KitchenAid attachments are also available in packs. You can choose from three different combinations. You can save a few dollars with the packs than if you get the attachments individually. But, it's not much. If you don't want all that's included in a pack, just purchase them individually. Here are the packs and their components: Attachment Pack 1:
Food grinder
Fruit and Vegetable Strainer
Rotor Slicer/Shredder
Attachment Pack 2:
Food grinder
Rotor slicer/shredder
Sausage stuffer
Mixer Attachment Pack 3
Food grinder
A citrus juicer
A sausage stuff
A food tray for holding large quantities of raw meat, fruits and vegetables
All attachments couple to the stand mixer's power hub and utilize the motor's power to operate them. They are compatible with any KitchenAid stand mixer. So, if you have attachments for say an old KitchenAid Professional 600 which you want to replace with another same brand model, you don't have to buy another set of attachments.
Pasta Drying Rack
How does good pasta get a proper finishing without the KitchenAid® Pasta Drying Rack? This accessory allows you to work through big batches of just about any kind of pasta, from the thin varieties like capellini to the thicker ones like fettucine. It ensures that even drying of your pasta is done quickly and can hold up to four pounds of freshly-made pasta at one time.
Overall Impression
A KitchenAid stand mixer is actually a versatile multi-tasking tool. It becomes an all-in-one kitchen machine with appropriate attachments. However, like most tools, there are factors you should consider. Pros
Maximize use of your KitchenAid mixer
Small footprints save storage and counter space
No need to get separate appliances
Cons
Some attachments can cost almost the same as an appliance that has the same function
More attachments means more load on a stand mixer's motor
You don't have to get all of the attachments. Having a few that you can put to good use can make food preparation simpler, more convenient, healthier and exciting.
Imagine having a tool that you can reach for anytime you want to prepare fancy sausages  or delicious and healthy desserts and fruit juices for you family. You run the show. You can substitute, reduce and make your own recipe. This is especially helpful for those who are on a restricted diet due to health conditions. It's food according to your nutritional standards. That's the best part.