Notice: I receive compensation if you buy something through affiliate links on this post. This does not change the price you would pay.
Do you own a KitchenAid stand mixer? Are you a pasta lover? Chances are you are looking for a pasta attachment for your mixer. Or, are you one of those still cranking a manual pasta maker? Perhaps, it's about time you make good use of your stand mixer.
It's fast and convenient. You can mix and knead the dough with your KitchenAid mixer, roll it in the pasta maker and cut with a pasta cutter or shape with the pasta press.
You probably have read online or heard from friends about how they enjoy making fresh flavorful pasta with their KitchenAid pasta attachments .  But there is not just one pasta attachment for a KitchenAid stand mixer. Which ones do you need?
Let's go over each one and see what they can do for you…
Pasta Roller: Getting the Dough Ready
How do you turn that dough into pasta? Easy with the KitchenAid pasta roller or maker which kneads and turns pre-made dough into thin sheets before you cut them into the pasta you want. You can choose from 8 thickness settings depending on how thick or thin you'd want your pasta to be.
The pasta roller is coupled to your mixer's attachment hub.  Just run your mixer in any speed you're comfortable with and feed the flattened dough into the roller. Fold the dough and repeat the process adjusting the thickness setting as you go. Repeat until you get your desired thickness.
Be aware that the higher the speed setting you choose, the faster the dough will roll. You may want to initially set the speed lower until you get used to the process.
Go here for a detailed review of the pasta maker attachment, how to use it and what to watch out for.
KitchenAid Pasta Cutters
Ever wondered how long pastas are cut? Well, after you have rolled and thinned the dough, you then have to feed that sheet it into a cutter to produce spaghetti, fettucine, linguine or whatever pasta you like. You won't need one for lasagna, because you can make it with just the roller.
Like the pasta roller, the different pasta cutters also go into the attachment hub and run when you turn your mixer on.  The cutter will also run faster and cough out cut pasta faster at higher speeds.
There are a number of pasta cutters available for you. It can sometimes be confusing for someone searching because each cutter type can make more than one pasta variant.  That's according to product descriptions and user feedback.
Let's sort what each pasta cutter can do…
Fettuccine Cutter. Aside from fettuccine, this  attachment can also make linguine. It will depend on how thin the dough is rolled.  But it will be a wide linguine
Spaghetti Cutter. You can also make linguine in the spaghetti cutter.  Linguine is supposed to be thinner and wider than spaghetti. Thinness can be achieved with the pasta roller, but linguine width will be the same as spaghetti.
Lasagnette Pasta Cutter.  This is also known as the thick noodle cutter. Use it for thick fettuccine or egg noddles.
Capellini Pasta Cutter.  Some users and websites refer to this as the angel hair pasta cutter. It can also be used for making spaghetti.
Make it Fast With the Ravioli Maker
Want a quicker way to make ravioli? The ravioli maker attachment guides two sheets of rolled dough into the hopper. You then fill the cavities with your prepared ravioli filling and manually turn a knob to seal each row of ravioli.
Using this attachment may take practice depending on your dexterity. But once you get the hang of it, it's easy.
What is the Pasta Press Attachment?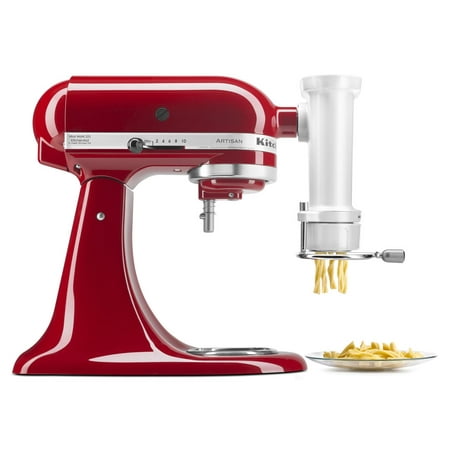 Now, what if you want macaroni or penne or other pasta shapes? You can't make it from rolled dough. The answer…the pasta press or extruder. It has a hopper and includes six different pasta plates for six different pasta shapes…bucatini, small and large macaroni, rigatoni, fusili and spaghetti.
There is no need to roll the dough before cutting it into shape. Instead, you feed dough balls about the size of a walnut into the hopper. The pasta plates attached beneath shapes the pasta.
Are there KitchenAid Pasta Attachment Sets?
The pasta roller, ravioli maker and pasta press are available individually. But, pasta cutters are available in sets or are included in a set.
You can actually save with any of these sets…
Pasta roller and cutters set. This includes the pasta maker, spaghetti  and fettucini cutters.
Fettucini and spaghetti cutters combo
Lasagnette and cappellini cutters combo
KitchenAid Pasta Excellence set. This is the complete set. It includes pasta roller, ravioli maker and the four different pasta cutters.
How do You Care for Your Pasta Attachments?
The most important thing to remember with any KitchenAid pasta attachment is to never, ever wet it.  Some sellers and reviewers say that these attachments are made of stainless steel. KitchenAid says they are chrome-plated.
Use the accompanying brush to remove dried pasta and polish with a dry towel. Do not insert any object into the rollers to clean them or use sharp objects. You can use toothpick if need be.
The trick for easy cleaning is to dust your roller, cutters and dough with flour.  If any dough sticks, let it dry-out before brushing.
Lubricate the ends of any attachment with mineral or olive oil periodically.
What Do Consumers Say?
We all look for reviews before grabbing anything. A significant majority of owners enjoy using these pasta attachments.  They say it does take some practice and a suitable recipe for your area. Once you get the hang of it, using them is fast and convenient.
Those who were previously using manual pasta makers point out the convenience of having both hands free to feed and guide the dough.
There are also people who are disappointed. The most common complaint is that the plastic gears on the roller fail just after a year or two. A significant number say that they haven't used it for a year or have used it very rarely. This is in contrast to the experiences of satisfied owners who use their pasta attachments often.
Here's My Overall Review
Several attachments can turn your KitchenAid counter top mixer into a versatile kitchen appliance.  The pasta attachments are probably the most popular. They are proving to be very useful to a lot of KitchenAid mixer owners. They aren't perfect but they work, and are a huge convenience for someone who prefers homemade pasta.
Those who have weak arms or have an arm injury can benefit from not having to use a manual pasta maker.
Although attachments mean more work for your stand mixer, as long as you don't overload and overwork it, you can, like other pasta lovers, enjoy its versatility.
Important: These pasta attachments fit all KitchenAid mixer models.